PAC: efficient anti-puncture preventive treatment
PAC is a unique product, an aqueous solution specially designed to prevent the puncture of industrial tyres. For over 30 years PAC's exceptional formula has shown its incredible efficiency to all tyre professionals and to the many users who now consider it to be a reference on the market.
Use for the treatment of industrial tubeless tyres
LPAC anti-puncture is very easy to use. Just remove the valve core and inject the product into the deflated tyre. A pump mounted on the container is used to accurately dose the quantity of product depending on the table of recommendations.
Prevention is better than a cure ...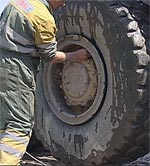 As construction professionals (civil engineering, earthworks, construction) or waste collection and processing (industrial or rubble) professionals you are unavoidably faced with punctures on your equipment.
Have you seriously considered the cost of a simple puncture? To the repair itself must be added an interruption in production: the immobilisation of the equipment and staff, sometimes even of the entire works site. For an efficient company this is unacceptable. The only efficient way to deal with these issues is systematic preventive treatment. PAC remains efficient throughout the life of the tyre. Users are categoric, the PAC preventive anti-puncture treatment has a return on investment on the first avoided puncture!
The PAC line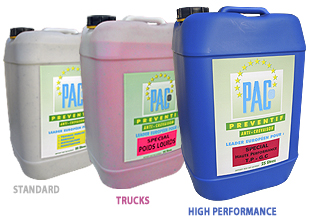 PAC is available in three versions:
* PAC High Performance for the most demanding applications: civil engineering, Construction, handling...
* PAC special heavy vehicles/trucks
* PAC standard for construction, agricultural, parks and garden vehicles
Contact an approved retailer for more information